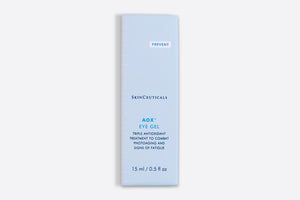 AOX+ EYE GEL - 15 ml
Regular price
Sale price
$89.00
---
An eye serum in a lightweight gel that provides advanced environmental protection around the eyes while reducing the look of puffiness, visible signs of fatigue, and under eye circles
--
AOX+ Eye Gel is a groundbreaking serum-in-a-gel that contains a synergistic combination of 5% pure vitamin C (l-ascorbic acid), 1% phloretin, and 0.5% ferulic acid along with powerful botanicals to protect the delicate eye area from atmospheric skin aging – environmental damage and premature signs of aging caused by free radicals from UVA/UVB, infrared radiation (IRA), and ozone pollution (O3). This refreshing eye serum targets visible signs of aging such as crow's feet and fine lines, and improves the appearance of puffiness, fatigue, and under eye circles.

Provides advanced environmental protection by neutralizing damaging free radicals
Reduces the appearance of lines, puffiness, and under eye circles.
Combats signs of fatigue to promote a refreshed appearance.
Combats signs of fatigue to restore a fresh, vibrant appearance.
Paraben-, fragrance-, alcohol-, and dye-free
Ideal for most skin types
SCIENCE
Containing phloretin, L-ascorbic acid (vitamin C) and ferulic acid, this protective and corrective serum-in-a-gel provides advanced environmental protection for the delicate eye area.
Innovation
New state-of-the-art technology allows active ingredients to be suspended in solution at an acidic pH to penetrate skin just like aqueous serums.
HOW TO USE
In the morning, apply 1/2 pump per eye on fingertips. Apply on the area below the eyes, on the outer corners, and on the brow bone. Gently pat the gel until it is completely absorbed. Do not apply product to the inner corners near the tear ducts, below the brow bone, or on the upper lid. Follow with SkinCeuticals Physical Eye UV Defense SPF 50. It is normal for vitamin C products to darken after opening due to air and light exposure. The formula will remain effective. Once opened, it is recommended to be used within 3 months of opening.
KEY INGREDIENTS
Antioxidant combination – 1% phloretin, 5% pure vitamin C (l-ascorbic acid), and 0.5% ferulic acid:
 A synergistic antioxidant combination helps neutralize free radicals, prevent future signs of aging, and improve the appearance of under eye circles, fine lines, wrinkles, and uneven skin tone.
Ruscus aculeatus: Derived from a small evergreen shrub native to Western Europe, this ingredient helps reduce the appearance of puffiness
Caffeine: This ingredient helps improve the look of under eye circles for a more vibrant, refreshed appearance
REGIMEN