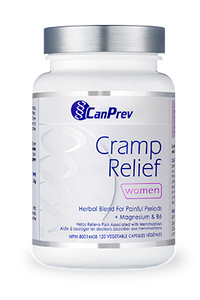 Cramp Relief
Regular price
Sale price
$38.00
---
During a regular menstrual period, the uterus contracts to help remove its lining. Certain factors like hormone imbalances (higher levels of prostaglandins for example) can trigger increased uterine muscle contractions with inflammation, cramping and pain as a result.


Cramp Relief

 

is a comprehensive herbal and nutrient blend to relieve achy discomfort, pain and cramps that can come like clockwork with menstrual cycles.




It features proven herbal remedies like potent cramp bark, to help target muscle and uterine muscle cramps. With sweet fennel and skullcap, to relieve restlessness and nervousness during painful periods. And, vitamin B6 and a blend of muscle supporting magnesium for additional tension relieving benefits, and to act as a sleep aid during times of stress.




Ginger




Ginger is traditionally associated with anti-nausea properties, but it has also been studied extensively for dysmenorrhea as well as effectively reducing menstrual pain when taken for the first 3-4 days of the menstrual cycle. Additionally, research suggests that ginger may decrease exercise-induced muscle soreness, improve post-exercise recovery, reduce migraine severity and duration, and reduce joint pain.




Cassia cinnamon




Cassia cinnamon is another herb that has been studied for its ability to improve dysmenorrhea symptoms. Multiple studies have shown that cassia cinnamon is capable of reducing the severity of menstrual pain, associated nausea and vomiting, while also reducing the amount of menstrual bleeding. Both ginger, and cinnamon have been studied head-to-head against NSAID medications and have proven effective with an impressive safety profile.




Magnesium and Vitamin B6




When combined with magnesium vitamin B6 has been shown to reduce symptoms such as nervous tension, mood swings and irritability, pain perception. Can be used pre-menstrual cycle for cramps, daily as needed for digestive cramping, in the evening for muscle cramps.


120 vegetable capsules.